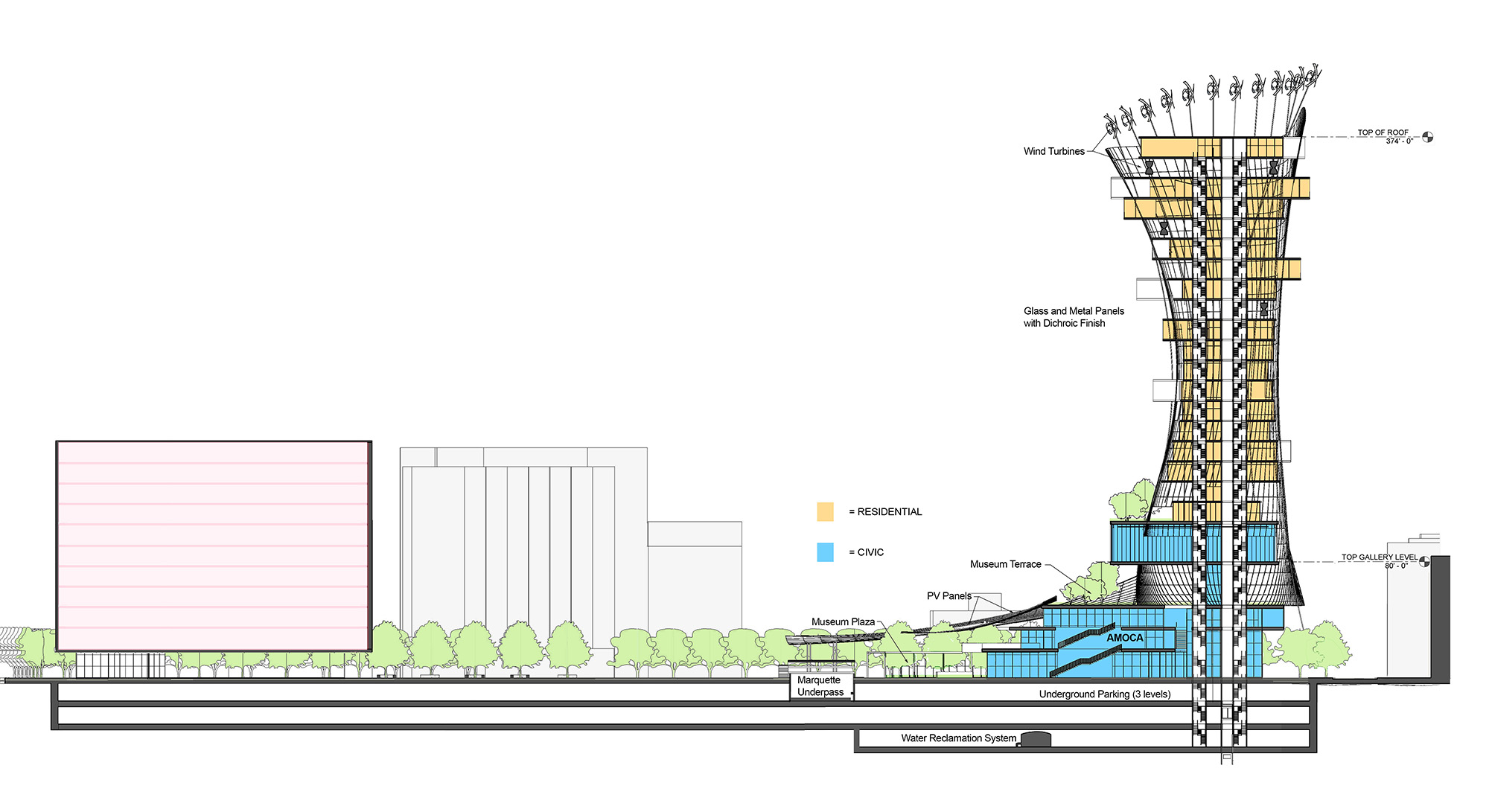 SkyRise
Location: Albuquerque, New Mexico
Project Info: Mixed Use Development Project
Completed: 2017 (proposal)
Project Description:
SkyRise is a 210,000 GSF Mixed Use Development Project. The ground floor level incorporates an indoor Market Place, Restaurants, Retail Shops, the Albuquerque Museum of Contemporary Art (AMOCA), and the entrance to the Performing Arts Center (PAC) which is located on levels 2-5. Levels 2 – 7 contain the PAC Theatres, commercial office space, AMOCA galleries, and outdoor decks. These non-residential spaces encompass 115,000 GSF. The residential tower includes 100 units on levels 8 – 26. A 3 level underground parking structure is below. The U shaped building form creates a south facing Central Commons courtyard. It serves as a public park and includes public art. Street level fenestration incorporates high windows to encourage browsing and window shopping. A portal lines the perimeter of the building, both facing onto the public street and the Central Commons.
The Central Commons has a direct on-grade pedestrian connection onto redesigned Civic Plaza. Marquette Ave. is restructured to go underground, providing direct access to the underground parking structures under Civic Plaza and SkyRise. A new 4th Street Camino Real pedestrian promenade connects the City grid on each side of the development. Civic Plaza Stage is relocated as a central type of stage under SkyRise's west canopy. An Amphitheatre frames the east edge of the Commons. The roof over the east portion of the building extends over Museum Plaza, at the AMOCA entrance.
In resolving the enormous out of scale Civic Plaza, a new building / development opportunity is created by the Future South Building. It defines the south edge of Civic Plaza, and creates a pedestrian scaled streetscape along Tijeras.